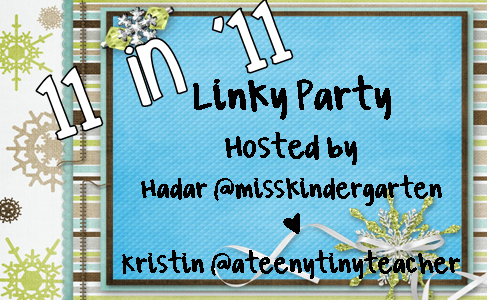 I'm linking up with this awesome linky party! Click the button above to join! Here are the 11 items to post:
11. Favorite movie you watched
I'm so sorry, but I HAVE to pick two!
10. Favorite TV series:
And another tie...
No show has made me cry more. ever. I love Parenthood!!!
9. Favorite restaurant:
Tillman's Roadhouse (Fort Worth and Dallas) The food is delicious and the decor is lovely! If you're ever in this part of the Lone Star State, I'd highly recommend it...
8. Favorite new thing you tried:
7. Favorite gift you got:
Hands-down, the most comfortable shoes I've ever taught in...(Besides pajama day.)
6. Favorite thing you pinned:
I love the many inspirational quotes and printable scriptures I've found on Pinterest.
5. Favorite blog post:
Mrs. Klohn's lovely Reader's Notebook Ideas.
4. Best accomplishment:
Finishing my Master's Degree!!!
3. Favorite picture:
The look on my grandmother's face really captures her sassy but sweet personality. Love her dearly.
2. Favorite memory:
Another tie:
Cheering the Mavs through the playoffs and on to becoming champions! We were at the American Airlines Center with the crowds when they won in Miami...
Being there the day one of my best friends gave birth to her first baby...Life is a miracle.
2 minutes old!
1. Goal for 2012:
Drink more water. Read more fiction. Memorize more scripture!